www.chargetek.com
1860 Eastman Ave. #107
Ventura, CA 93003
Versatile AGM/SLA/flooded/lead based
industrial battery charger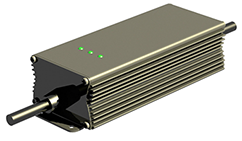 The GEK product line is designed for applications requiring DC input. This series is especially suited for alternative energy power sources including fuel cell, solar and wind power, on-board vehicle applications, and many other systems. The standard DC input range is 10VDC-20VDC. However, we offer an extended input/output range up to 450VDC. The GEK series is available in both waterproof and fan cooled versions. User defined optional relay signal contacts are available upon request.
GEK SERIES - DC INPUT LEAD BASED CHEMISTRY CHARGERS
GEK part numbers are easily configured. Model numbers are in the form GEw-xS yy-zz-R. R specifies options and several customization parameters such as temperature compensation, relay contacts and serial bus options. The standard product offerings are shown below and the current ratings. To order a unit with lower current simply replace the current rating of the part number shown as follows (high lint current rating) and show example. Please contact us for any variations required.
For example, the GEK-6S3-07-R denotes a standard 10-20v DC input, six series lead cells, (12v) and 3 amps of charging current. The suffix (R) is required for customization definition (see datasheet) but not required for standard units.
Part Numbering Scheme
GEw-xSyy-ZZ-R
w - Housing:
xS - Number of battery cells:
yy - Charging Current:
ZZ - DC Input Voltage:
K (LSE) - other chassis are F(LCD), R(LME), D(MCF), P(LPC), M(SFE), V(MME)
Each cell is equal to 2 volts, options are 3S, 6S, 9S, 12S, 14S, 18S, 24S, 30S and 36S
Maximum current in amps, set by xS option (lower current can be specified)
Options are:
Interactive Part Number Selector below for Standard Products